Actus provides solutions for broadcast recording, compliance logging, and clips generation for OTT and social.
Every broadcaster, media operator or media agency would need to have as many of its' media requirements answered by one web-based media monitoring platform, available from anywhere, anytime. Such requirements are an off-air broadcast recording solution, compliance logging, monitoring relevant TV channels, track competitors' channels for competitive analysis, analyze rating fast and efficiently, create clips for content re-purposing, sharing and exporting track ads automatically for ads verification and to be able to comply with regulators such as the FCC requirements.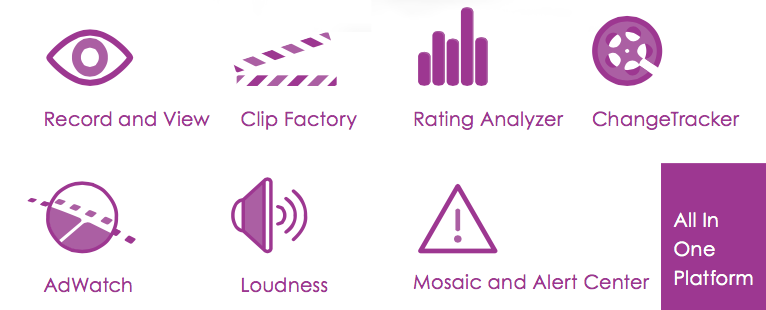 Actus View – Broadcast Compliance Recording and Monitoring System
Actus View is a professional broadcast compliance recorder and broadcast media monitoring platform for recording any number of TV or radio channels, from any input and any format. Actus View broadcast monitoring system complies with the media regulation authorities requirements, such as the FCC compliance specifications.
The media is saved in any bitrate, any resolution and for any retention period. A powerful player allows to easily navigate and retrieve the relevant content, create and export clips, transcode and export the clips in any format. Actus media intelligent platform is a web based broadcast logging solution and provides cross organization tools, all from a shared web based platform. The broadcast recording software allows you to monitor the competitors content as well for better competitive analysis.
Quick Export:
Actus View always includes the Quick-ExportTM module for easy clips creation. It allows mark-in and mark-out of a segment, selection of any resolution, bitrate and file format for export, and a choice of several destinations such as FTP, local PC, Catalog (MAM). From the catalog any clip can be searched and either downloaded or sent via E-mail.
Please note that Quick-ExportTM does not include advanced features such as special effects (Blur, Mute, Logo insertion) or automation (API, XML hot folder) or multiple parts in a clip. If these features are required then please refer to Actus Clip-FactoryTM Click here.
Transport Stream recording
Actus View-ProxyTM is intended for feeds that need to encoded (compressed) into Proxy files. It does not include the capability to record the original feeds as-is (native). If this capability is required then please refer to Actus View-NativeTM Click here.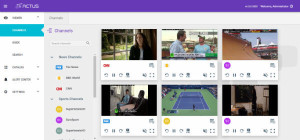 Key Features of Actus View-ProxyTM
High-quality broadcast off-air recording system (TS logger, SDI recorder and logger, ASI logger, etc)
Compliance recording and compliance logger platform, complies with media regulators requirements: closed caption, Loudness, etc
Ingest any type of feed: analog/digital/ SDI/DVB /IP/ASI/TS
Full HD broadcasts support – IP/TS HD video recorder, HD SDI video recorder
Multiple audio tracks support
Multiple-language subtitles recording, closed caption, teletext, OPI 47, etc
Supporting SCTE 35
Integration of EPG, As Run log files
Quick access and retrieval of recorded content
Monitor content in Live mode
Assign metadata to your content
Quickly export clips to multiple destinations using a built-in transcoding engine with support for all industry standard file formats
Powerful feed quality monitoring with logs
Intuitive playback controls include slow-motion progress, frame-by-frame, fast forward/rewind
Web application – no client software required!
Option: Transport stream recording (native transport stream)
Supports VM (Virtual Machines) as well
Supports other devices such as iPads
Why do I need Actus View?
Compliance recording system, complies with regulatory requirements, such as the FCC
Work with one shared Intelligent media platform, cross organization
TV Broadcast monitoring software to monitor the competition
Verify the quality of your content
Easily share content
Workflow
Actus View automatically records your content 24 x 7 and archives it for any desired period of time, making it available for you with the click of a button.
Actus View records linear video at any required quality, from any type of interface – whether it is analog, SDI, DVB or IP / TS. Once the content is stored, Actus View allows you to access and manage the content using any standard web browser. You can do everything through the web: select and encode clips into various industry standard formats and frame sizes for sharing with others inside or outside your organization, monitor the connected audio/video inputs' for failures, and archive the recorded media for any desired period of time.
Actus View is a web application. This means that all the work is executed without any client software installed, and it can be accessed from any workstation connected inside the organization or even from a remote location.
Everything is done in a single user interface which shortens your workflows and maximizes your resources.
Actus View is a modular platform centered around 3 modules: ActusPlayer, QuickExport and AlertCenter. These modules brought together in one powerful platform, allow broadcast media professionals around the world to accomplish several important tasks.
We'll cover the main two: Broadcast media Logging and Content Monitoring
Broadcast Logging
Actus View Logger is an enhanced platform designed specifically for Broadcast media logging and monitoring, capturing any number of audio and video channels, from any input or any format. The purpose of the system is to allow Broadcasters to record TV and radio feeds, to monitor the aired content and to easily export any segment as clips.
The system serves as a multi-functional platform and provides cross-organization tools, all from a shared web-based platform. The system comes with the ActusPlayerTM which is a solid video player for easy navigation and retrieval of all recorded content. The player also lets the users add bookmarks, Metadata, and search.
Actus broadcast logger can be comprised of any number of recorders that continuously capture and archive any number of off-air feeds, 24 x 7. The platform can include an unlimited number of channel recorders, for continuous archiving of off-air feeds.
The system is modular and would fit both a small installation of 2 or 4 channels, and up to hundreds of channels. Feeds can be Analog, SDI, ASI, IP, DVB-X, HDMI, TS, and from practically any source.
The Actus QuickExportTM module creates clips, in any format, out of the recorded linear content. Clips can be exported to any destination within the organization or outside. Including to any network share, FTP sites, or email address.
The Actus AlertCenterTM module detects automatically any irregularity in the Video or Audio feed, such as frozen image, Audio too low, and a dozen other common Quality of Experience issues.
The system is reliable, redundant, and scalable. Intended for professional broadcasters, it is installed by hundreds of broadcasters, networks, Media agencies, regulators or other government agencies, worldwide.
Broadcast Content Monitoring
Actus View is a powerful Broadcast monitoring platform. It is a software suite dedicated for content monitoring of electronic Media (TV and Radio). The platform is being used for monitoring purposes by broadcasters, governments and media agencies. Actus View is suitable for monitoring of broadcasted programs, political events, news gathering, and security.
The media is saved in any bitrate, any resolution and for any retention period. Using the ActusPlayerTM, the powerful client Web-based full featured Video player, users can easily navigate and retrieve the relevant content, add bookmarks, edit a segment using a timeline and add Metadata. The player also lets the users add bookmarks, and search content.
The platform can include a large number of recorders, for continuous archiving of off-air feeds. Optionally, 3rd party modules can be added for speech-to-text and other recognition of content. It is installed by more than 200 broadcasters, networks, Media agencies, regulators or other government agencies, worldwide.
Broadcast Repurposing with Actus Clip-FactoryTM
Actus Clip-FactoryTM is an easy to use one-stop-shop video editor for clips creation for OTT, VOD, Catchup TV, mobile, social and any new media platform.
ClipFactory is a one-stop-shop alternative to a multitude of separate products for capture, encoding, editing, transcoding and delivery of clips. Thus, ClipFactory saves you both complexity and costs. ClipFactory incorporates video recording, content extraction, editing, metadata application, transcoding and delivery management into a single streamlined solution.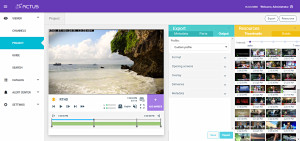 Clip-Factory-Pro
Clip-Factory-Pro is a separate product, with additional features and capabilities that are not present in the Clip-Factory (Standard). Its main differentiation is in the API automation and in the special effects (Blur, Mute, Logo/Bitmap insertion). By using the API, it is possible to automate the whole clips generation workflow without any manual intervention.
Main Features:
Repurposing Linear (Live) TV into VOD clips
Advanced cut-to-cut editing
Cutting segments into parts
Near Live editing (the video is available for editing just a few seconds from Live)
Creation of full HD, frame accurate clips
TV Transcoding to any format, resolution and bitrate
Customized metadata assignment per part and per segment
Built-in Catalog (simple MAM) for clips management
Export to multiple destinations (E-Mail, FTP, Network Share, social media, and Internal Catalog)
Ability to create and save profiles (Bitrate, Frame size, File Format and Destination)
Built-in job management
Ability to add overlays, text, date and time stamps.
Powerful Boolean search engine
Easy Ads removal
Web application – no client software required
Additional Features Clip-Factory-ProTM
Blur (selected regions, in parts of the clip)
Mute (selected regions, in parts of the clip)
Logo insertion, image insertion (selected regions, in parts of the clip)
API for complete workflow automation
Hot-folders (for API file)
Why do I need Actus Clip Factory
One stop shop for preparation of any clip for OTT, Catch-TV, WebTV, VOD and mobile platforms
Automatic clips creation – more cost effective than manual editing
Speed up clips creation and delivery
Higher frame accuracy than manual editing
Content sharing to all screens
Removal of ads from programs
Distribution of video content across departments in the organization and outside of it.
Workflow
In order to accomplish this "all-in-one" approach to content production and delivery, ClipFactory harnesses the available linear feed in order to capture and record the video at any required quality, from any type of interface – whether it is analog, SDI or IP transport. Once the content is available, ClipFactory allows you to extract the content using a powerful streaming web-player, to edit the content and assign all required metadata information, transcode the clip into various industry standard formats and frame sizes, and deliver the content to its designated destination.

Access content from anywhere
The Clip Factory is a web application. No need to install any client software and can be accessed from any connected workstation inside the organization or even from a remote location.
Fast clips creation and delivery
With Actus ClipFactory your content is ready to be viewed within minutes.
Actus Rating Analyzer – Truly Understand Content-Rating Relationships
Actus Rating Analyzer provides efficient rating and competitive analysis tools. It provides a clear graphical view of all rating information, yours and competition, along with the actual broadcast media. The clear rating and demographic data display allows you to get an easy at-a-glance information from all numbers and charts received from the rating companies. The end result is a far more accurate analysis of the content, which in turn allows research teams to give much more informative and accurate recommendations, leading to better program planning, ad placement, and even more viewers watching the shows – all significantly increasing revenues.
Actus Rating Analyzer simplifies the way you compare your rating to that of your competition. It takes the raw statistical data and transforms it to a dynamic graph displayed fully in sync with the actual broadcast material which was recorded and archived in advance.
Main Features:
Import of audience measurement data (Rating) for Rating analysis (Nielsen, TNS, Gallup, Kantar, IBOPE, etc)
Automates the imports process through the use of "Hot Folders".
Visualize your rating data with actual broadcast content
Compare the change in graph to the actual program aired at that time
Compare multiple channels
Select to display: Demographics, Reach, Rating Points, etc.
Building any graphical rating graph/comparison: different channels same time, same channel different times, …
Archive your rating information
Share critical information with key people
Web application – no client software required!
Easy Comparison of your and your competitors' rating
Fully interactive effective analysis
Why do I need Actus Rating Analyzer:
The rating Analyzer is a most powerful tool for rating and competitive analysis – no need for excel files
Easily share critical information with key people
Faster analysis and and response time
Easy understanding of content-rating relationships
Easily present findings to program planners, advertisers, etc
Workflow
The infrastructure is the digital recording system, which records all broadcasts 24/7, and archives it for a selected period. The video serves as the contextual base for analysis.
Once the content is available, Actus Rating Analyzer allows you to upload raw rating data and visualize the information along with the relevant recorded content. This unique approach is using visualization tools to actually understand viewers' behavior, minute by minute, across entire shows, commercial breaks and promos.
Thus, Actus Rating Analyzer allows research personnel to analyze the media in a graphical and contextual environment, rather than making them work on many spreadsheets and other textual information that is out of context.
Actus AdWatch – Automatic Content Detection & TV Ads tracking
Actus AdWatch is a cost effective platform for automatic TV ad tracking and ads (advertisements) detection for ads verification and competitors monitoring. It offers an advanced audio and/or video ads detection solution combined with a robust feature-set allowing detection of recurring ads in linear broadcasts. Adwatch contains a report generator, allowing you to create any report, by any criteria and filter.

Key Features:
Based on proprietary audio fingerprinting and video fingerprinting technology
Automatic commercial ads detection, promos detection or any other content matching
Guaranteed High accuracy detection rates (99% to 99.9%)
New Ads to be detected automatically – requires only the user's confirmation
Supports both audio and video based detection
Does not require any watermarking of the feeds in advance.
Fingerprint extracted automatically from any sample, either from the recorded feed or from an imported file.
Powerful Report Generator –build your own report: per channel, spot, brand, campaign, etc.
Create affidavit and compliance with visual proofing
Customized metadata for the detected content
Scan previously recorded material retroactively.
AdWatch will separate detection with 100% matching from those with medium or low matching.
User may watch low matching detection and Approve or Reject detections by comparing to the original sample
Justification:
The task of verifying if commercials (ads) were aired or not is getting more complex due to:
The need to search within an ever increasing number of TV & Radio channels.
Manual operation is subject to errors.
Adwatch will also produce ads affidavits reports for advertising (traffic) aired.
AdWatch fully automatic advertisement tracking is more efficient than manual operation, more accurate, and more economical.
Adwatch automates competitors monitoring.
Workflow
The process begins by defining the reference commercials, either by marking them from the recorded feeds or by importing sample files.
The system automatically computes one specific fingerprint for each of the marked commercials.
AdWatch monitors the live feeds of all selected channels, and compares the fingerprint of the live feeds to the fingerprints of all the marked commercials (ads) stored in the database.
When AdWatch detects a commercial that is not 100% identical to the original marked commercial, the software will indicates a "suspicious" detection and allows the user to visually compare it to the original marked commercial and to classify it as "Approved" or "Rejected".
At the end of the process, AdWatch created a database of all certified commercials detections.
The user may produce a large set of reports from this database, by date, channel, brands, campaign and many other attributes.
For further analysis, there is a possibility to export any report to excel (.csv)
Actus AlertCenter – Remote/Local Broadcast Quality Assurance
AlertCenter allows you to monitor one or more remote capture locations, recording multiple channels at each location. You can monitor and manage them from afar, using a single, centralized user interface, greatly cutting manpower and operational costs involved in having a monitoring operation on every site.
Actus AlertCenter continuously performs quality checks on your feeds
If a problem is detected, such as loss of audio or video signal, frozen picture or any other nuance – Actus View alerts you in multiple ways: audible signal, onscreen notifications with alert descriptions and can also send a detailed notification via email or SNMP to your desired recipients. The proactive status alerts let administrators solve problems immediately and optimize transmissions.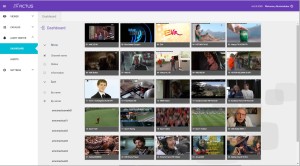 Main Features:
Real time alerts for Audio or Video issues, such as no audio, blue screen, low audio, frozen image, pixelization,….
Configurable settings for the real time alerts reporting
Real time email alerts
SNMP configuration
On screen Alerts
The historical log of alerts allows you to analyze repetitive faults and check for fault-prone channels.
Actus ChangeTracker – Compare between two video streams
Actus has announced a new Change Tracker solution for comparing outgoing and off-air feeds and flagging significant differences according to user-defined rules. These combined functionalities allow regionalised versions of the content to be monitored from multiple sites, ensuring that clients' brand values are retained wherever they are viewed.
Key features:
Ability to compare two linear feeds, like a primary channel and an affiliate channel, and to automatically detect any variation or modification in the secondary feed.
You will be notified automatically on all the locations in the streams that were modified.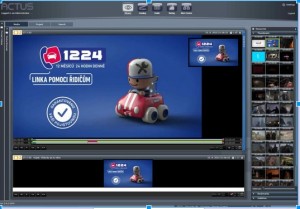 Why do I need Actus Change Tracker
To insure that all my channels are aired exactly as planned and without program or Ads modifications.
To obtain timely reports on any such modification
To process large number of channels automatically, fast, accurately, saving manual work.
Actus Loudness monitoring
Throughout the world, growing numbers of consumers have voiced their concerns in the past few years about variations in loudness, especially in commercials loudness, advertising loudness, resulting in national legislative activities (FCC CALM Act) that have begun to regulate broadcasters more closely.
Actus Loudness brings broadcasters a complete visibility of the loudness levels of all programs as well as a comparison to the average loudness levels of ads.
Loudness Compliance integration
The ability to completely monitor Loudness Compliance is now fully integrated into Actus Loudness module. Broadcasters can avoid costly legislative penalties and better handle viewer complaints with this fully compliant feature. Actus Loudness is a multi-layer solution that offers centralized broadcast performance operational information in real time.
The Actus Loudness module lets operators maintain continuous measurements, which among other things, identifies program loudness and loudness range. Loudness measurements combined with robust logging allow users to quickly review the status and provide continuous, exportable measurements as proof of compliance and to defend against loudness complaints.
Only by providing complete information, like the Actus Loudness Meter does, including not only the 'Program Loudness' ('I') but also the 'Program Range' and the 'Program True Peak', can the sound engineer select the right mix of methods, and make sure that the program is within the EBU\CALM Act specifications without compromising its sound quality.
The powerful combination of loudness measurement and logging easily demonstrates compliance with loudness standards.
Actus Loudness Feature Highlights
Follows FCC Loudness monitoring recommendations
Offers measurement to the ITU recommendation BS.1770-1 and BS.1770-2 standard
Provides compliance with US CALM Act, ATSC A/85 Practice, EBU R128 3341 PLOUD
Key Features
Record and Retrieve
Actus Loudness offers an on-screen display during the playback of the following values:
M (LUFS) – The momentary measurement
S (LUFS) – The short term measurement
I (LUFS) – The integrated average of S over the whole segment. (This is the program Loudness level itself) And it is supposed to be under -23 LUFS.
True Peak – Presents the statistical highest levels reached
Range – This is the statistical average between the highest and the lowest levels.
The user can select to show or hide the value next to the video.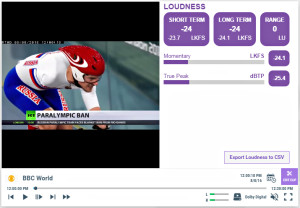 The system constantly saves an Excel Spreadsheet which presents during the whole duration of the segment all the measurements of the parameters described above, and even more raw data.Excel Spreadsheet
Export with Burn-In Loudness Data
Quick Export provides you with an easy and quick way to export and share your content with the Regulator, or any other party. You can export media to various destinations simultaneously with the Loudness Data burned-in, as affidavit of the program Loudness value.
Actus View – Quick Export Screen with Loudness Burn-In Selected
Actus Loudness Specifications
Supported Input Methods

IP Transport Stream, Analog, Digital (SDI),
DVB-T/T2, ASI
Both SD and HD inputs are fully supported

Available Bitrates

Video: 256 Kbps – 20 Mbps (Full HD)

Audio: 64 Kbps – 1024 Kbps

Terms

Loudness Meter – any device, or software solution, that has the capability to measure the audio levels of a program.

Program Loudness – is the average Loudness Measurement over the length of a given programme.

Loudness Range – is the average dynamic range (the number of db separating the low volume from that of the high volume) of a given programme.

Maximum True Peak Level – is the approximate level of the highest volume of audio within a given programme.

Graphical Representation – Any Loudness Meter may implement a different graphical solution. There are no standards in terms of GUI.

Time Scales – the EBU specifications require that a Loudness Meter provides measurements in 3 time scales. The shortest time scale is called 'momentary', abbreviated 'M' using a rectangular time window of duration 400ms, non-gated. The intermediate time scale is called 'short-term', abbreviated 'S' using a sliding time window of duration 3s, non-gated updated at least at 10Hz. The programme- or segment-wise time scale is called 'integrated', abbreviated 'I' updated at least at 1Hz.

Gated – When applicable, a gate, or a filter, will be used, to eliminate all measurements which are below a certain level, for example anything lower than -70LUFS (dB) can be ignored. However, a Gate is not used in 'M' and 'S' measurements. It is applicable to the 'I' measurement.

Scales – An 'EBU Mode' meter shall offer two scales, for when a scale is shown, selectable by the user: range -18.0 LU to +9.0 LU (-41.0 LKFS to -14.0 LKFS), named 'EBU +9 scale' or range -36.0 LU to +18.0 LU (-59.0 LKFS to -5.0 LKFS), named 'EBU +18 scale'

Live Meter – In an 'EBU Mode' 'live meter' all three time scales shall be available, but not necessarily displayed at the same time.

Non Live Meter – Is used for example in the case of a file-based software meter, which measures average loudness of a given programme, in compliance with the 'EBU Mode' requirements.

Maximum Loudness – The loudness meter shall be able to display the maximum value of the 'momentary loudness'. This maximum value is reset when the integrated loudness measurement is reset.

ITU 1770 – This is the standard that defines the measurement methods used. The complete name of the standard is ITU-R BS.1770-2.
Actus Mosaic – Multi viewer
Actus proposes an efficient and cost effective Mosaic system, catering to the different requirements of Broadcasters, Public authorities and Media monitoring organizations.
In a nutshell
Actus Mosaic is a software module, running on any client workstation, capable of displaying a large number of TV signals, with low latency, including errors detection and alerts, audio VU meters, clocks and images into any large wall monitor screen. Its low budget and its ability to use existing sources from Actus encoders make it a perfect solution for control rooms.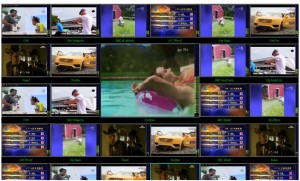 Workflow
Actus MosaicTM can display any of the channels recorded by the Actus recorders. This means that regardless of the input type, Analog, IPTS, ASI, SDI, DVB or other, all channels can be displayed side by side.
The display is driven either by a PC client, similar to any other PC client running the Actus Web browser, or by the Actus recording servers.
Layouts
Actus MosaicTM comes with a configuration screen from which the system administrator can specify the number of players, the size of each specific player, with the possibility to mix players of any size, clocks, and labels for channel names. Each player will have one TV channel assigned to it.
TS deep analysis
A comprehensive and up-scale plug-in for Mosaic, TS deep analysis provides all priorities of alerts for IP and ASI sources. This plug-in includes ETR 290 levels 1, 2 and 3.
Main Features:
Cost savings, no need to duplicate capture cards if exist is Actus recorders
Unlimited number of display monitors (one screen per PC)
Unlimited number of Layouts
Dozens of TV signals per monitor screen
The Real-time mosaic can display multiple services received from multiple Transport Streams
The configuration tool is intuitive and allows building layouts for multiple walls
Layouts can include clocks and graphics
The Mosaic accepts any TV service encoded by the Actus recorders. This includes MPEG-2/AVC/HEVC Video, MPEG, AAC and Dolby® Audio, Teletext and DVB-Subtitles
Integration with Actus Alert-CenterTM for real-time detection of No Video, Frozen Image, Black Screen, No Audio, Low Audio
Integration with Deep-AnalyserTM for visualization of Alerts such as PID lost, service lost and input lost behavior as well as ETR 290 levels 1, 2 and 3
Feature:

Mosaic

Digital Inputs (ASI, IP, DVB)

Analog inputs

Typical Latency (Live to Display)

<5 sec.

Maximum channels displayed
per monitor (screen)

36

Freeze detection

Black detection

Silence detection

Input Lost detection

PID Lost detection

Service Lost detection

Multiple walls

Acknowledge mode

Visual signaling

Audio alerts

SNMP traps

Mail alerts

MPEG-2 /AVC(H.264)
/HEVC(H.265) video

MPEG/AAC /Dolby®Digital+
/Dolby®E audio

Web enabled

Remote control

Round Robin

Teletext

DVB-subtitles

Clocks

Images

Preferences

Aspect ratio detection

Option

ETR-290 (Level 1) measurements

Option

ETR-290 (Level 2) measurements

Option

ETR-290 (Level 3) measurements

Option

Integration with Deep Analyzer

Option