CreateCtrl
ContentExplorer 10: The Innovative Asset Management System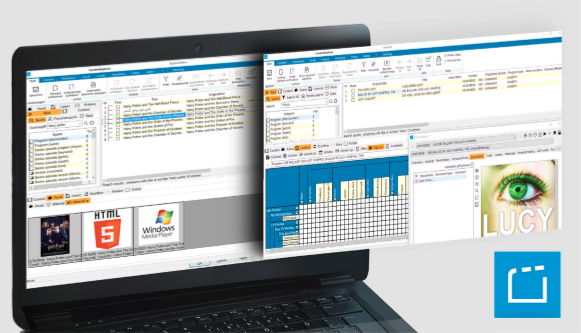 Manage any number of editorial, license related and technical metadata with ContentExplorer 10.
The content management incorporates allocating, capturing and managing all kinds of content, such as video clips, pictures, texts, covers, graphics, artwork, MPEG-files and tapes. The flexible, scalable and multi- tenant-capable content management system lets you manage all assets, including programs, trailers, pictures, texts, subtitles, advertisements, license rights and contracts.
Intuitive contract control for comprehensive exploitation license management
Generation and management of promotions, trailers, advertisements and design elements
Definition and implementation of automated workflows with versatile processing tools
Chronological structuring of daily routines according to their processes and priorities
VOD: Video-on-Demand Planning
Plan prominent and limited positions on the start screen of your VOD offer with the support of highlight planning. Increase the exploitation of your content by presenting your viewers the titles after the planning optimization. The module allows the planning of individual titles or bundles, such as series in different repositories.
The VOD items are stored in their respective month folders where they are visibly listed. The sum of all titles represents the complete VOD offer for this period.
Powerful VOD highlight planning for optimized place- ment of titles in different repositories and end- customer devices
Inclusion of individual title and bundle offers in different editorial communication channels
VOD covers all steps to present concurrently a successful VOD offer on various platforms
Campaigns: Automated Campaigns Planning
Use Campaigns to plan your media campaigns centrally and transparently and prepare them in a schematic way before you actually plan the concrete individual items. An integrated rule engine is available for planning your on- air promotions and other advertisement campaigns. It also permits the automatic planning with convenient wizards.
The rules for automated planning can include a minimum number of broadcasts and a minimum GRP value.
Direct steering of campaigns according to target numbers
Neat planning of blank areas with categorized contingencies
Displaying of free time slots based on the contingency defaults per day and channel
Capturing of value characteristics, such as additional information on age ratings and determination of royalties, right in the trailer versions
Radio Planning System RPS 2: Topic-Based Planning
Make the daily job easier for your editorial staff with the web based Radio Planning System, by synergistically connecting your departments. RPS 2 is the central interdivisional, format independent platform for planning topics and procedures. Processes and workflows can be standardized and – thanks to the topical and program calendars – relationships among various planning projects, such as comprehensive and individual topics and contributions, will be represented in a clear, attractive format.
Planning and control of editorial processes from the topical concept to the completed program schedule
Clearly displayed programs, content and broadcasts in an intuitive calendar view
Planning of resources, such as personnel, equip- ment and studios, with the integrated Availability Planning Tool
Seamless realization of topics from incoming email in the integrated mailbox to the completed program